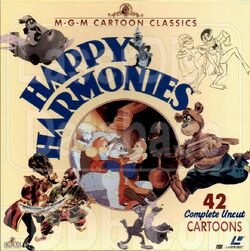 MGM Cartoon Classics: Happy Harmonies is a laserdisc box set. It is the only official home release containing a significant number of the Happy Harmonies film shorts. The laserdisc set was released on July 9, 1994 by MGM/UA Home Video [1], which predated the merger of Turner Broadcasting System with Time Warner in 1996. The four-disc set contains 17 of the 36 Happy Harmonies shorts while the remaining 25 shorts include one side of six Barney Bear cartoons, the 1939 animated short Peace on Earth and the 1940 animated short The Milky Way.[2]
Video Features
Edit
Side 1: Musical Fantasias
Edit
Tales of the Vienna Woods (1934)
The Blue Danube (1939)
The Mad Maestro (1939)
Art Gallery (1939)
Abdul the Bulbul-Ameer (1941)
Dance of the Weed (1941)
Side 2: Little Cuties
Edit
Side 3: Colorful Characters
Edit
Side 4: Swingin' Cats and Critters
Edit
Side 5: Bedtime Stories
Edit
Side 6: Barney Bear
Edit
The Bear that Couldn't Sleep (1939)
The Fishing Bear (1940)
The Flying Bear (1941)
The Bear and the Beavers (1942)
Barney Bear's Victory Garden (1942)
The Uninvited Pest (1943)
Side 7: Cartoon Classics
Edit
Goldilocks and the Three Bears (1939)
Home on the Range (1940)
Mrs. Ladybug (1940)
The Alley Cat (1941)
The Field Mouse (1941)
The Boy and the Wolf (1943)
Ad blocker interference detected!
Wikia is a free-to-use site that makes money from advertising. We have a modified experience for viewers using ad blockers

Wikia is not accessible if you've made further modifications. Remove the custom ad blocker rule(s) and the page will load as expected.