Little Ol' Bosko and the Cannibals
is a 1937
Happy Harmonies
cartoon.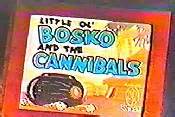 Bosko is on his way to give a bag of cookies for Grandma when he gets stopped by a frog that sounds like Louis Armstrong. In this version, he and other frog caricatures of famous African-American musicians like Fats Waller, Cab Calloway, and Bill "Bojangles" Robinson are portrayed as cannibals.
Ad blocker interference detected!
Wikia is a free-to-use site that makes money from advertising. We have a modified experience for viewers using ad blockers

Wikia is not accessible if you've made further modifications. Remove the custom ad blocker rule(s) and the page will load as expected.